Discrete PSE Visualizer
Discrete Parameter Space Exploration (PSE) View will show up information on multiple simulation results at once.
In TVB it is possible to launch multiple simulations by varying up to 2 input parameters (displayed on the X and Y axis of the current viewer). Each simulation result has afterwards "metrics" computed on the total output. Each metric is a single number. Two metrics are emphasized in this viewer in the node shapes and node colors.
When moving with your mouse cursor over a graph node, you will see a few details about that particular simulation result. When clicking a node, an overlay window will open, which gives you full access to view or further analyze that particular Simulation result.
A newly incorporated feature is the option to pan the canvas in/out or left/right/up/down. To pan you may click and drag on top of one of the axes, and to zoom in double click or out shift + double click. This will allow the inspection of very large batch simulations section by section. The same mouse over, and clicking rules apply from above.
The next new tool is the filter button. This allows users to specify threshold values for either the color or size metric and render results transparent if they are below that value. This tool has the option to invert the threshold rule which makes the results above that threshold transparent instead. Also, the user has the choice to make their filter more specific by adding further criteria rows that relate to the one which came before it through selected logical operators (AND OR). It is worth noting that in order to perform filtering that requires grouping of the logical operations ([foo and bar] or baz) as different from (foo and [bar or baz]) sequential filters must be applied: one filter execution then the other.
The last tool to be described in the PSE Discrete Viewer is the Explore tool. This tool is meant to give users the option to select regions of the Parameter Space to be filled in with new results. Currently only the front end of this tool is complete, so upon clicking the explore button the mouse cursor becomes a cross hair, and sections of the graph can be selected. Upon creation of this selection, grid lines are placed to demonstrate where new results would be added given the user's chosen step values. To adjust these values simply drag the sliders in the drop down menu for the explore tool, and the grid lines will adjust until they suit the user.
Isocline PSE Visualizer
Continuous Parameter Space Exploration View, will show the effect of varying Simulator parameters in a continuous form.
When running a range of Simulations in TVB, it is possible to do it by varying up to 2 input parameters (displayed on the X and Y axis of current viewer). This visualizer supports ranges with 2 dimensions only, it does not support ranges with only one dimension. Also both varying dimensions need to be numeric parameters (no DataType ranges are supported for display in this visualizer).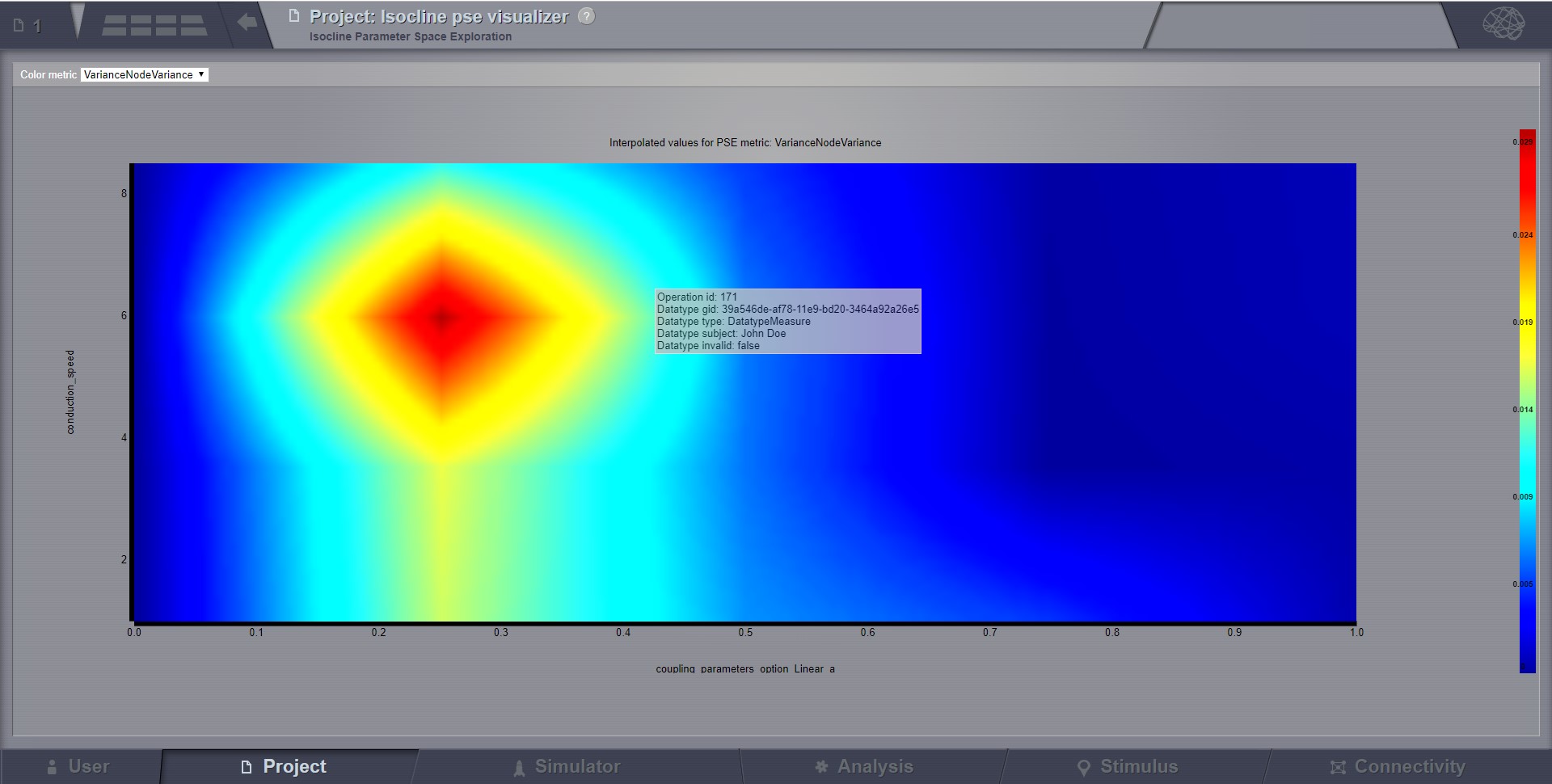 Controls for scaling or zooming the graph are available in this viewer. When you click on the coloured area, an overlay window will open, having the possibility to view or further analyze the simulation result closest to the point where you clicked.